Finding a campaign in Symphony is easier than ever. Whether you are searching by ID, name, date range, client or product, simply follow these steps.
Once you are logged into Symphony, navigate to the main menu (located top right) and select 'campaigns'. The campaign list will appear along with filters and a search bar.
The first filter allows you to select either a start date or end date range you wish to allocated in order to arrow down the search results.
The second filter relates to client, product or watchlist. You just need to select on the option for the list to appear.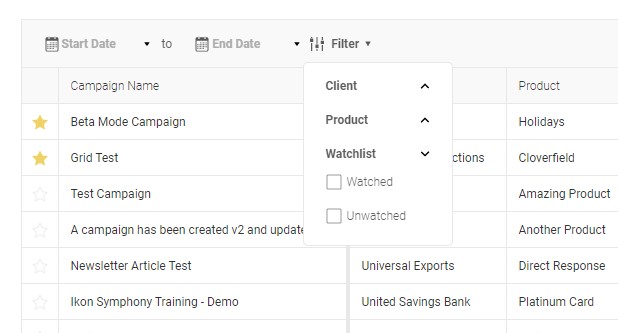 When it comes to the search function (which is located just under the create campaign button towards the right side of the screen), you can search by the following parameters:
Campaign name (keyword search)
Client name (keyword search)
Product name (keyword search)
Internal ID (this is a custom field based on agency configuration)
Campaign ID (this is the symphony campaign ID)